This site is under construction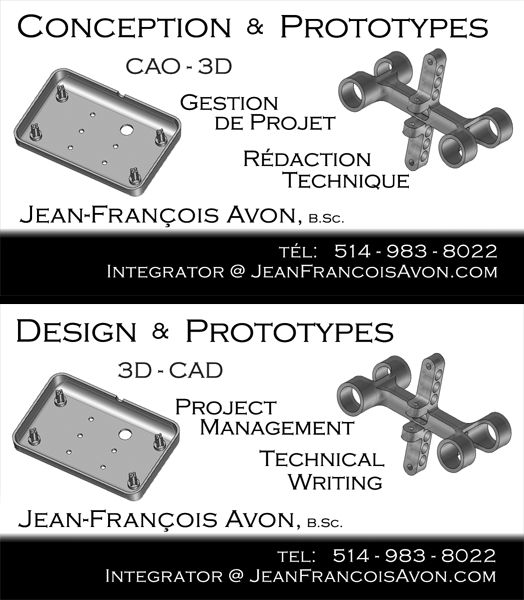 Formal Education:
B.Sc., Applied Physics (Solid-State & experimental), U. of Sherbrooke, (1984-1989)
.
Here is a list of a few things I've been working or toying with in the last thirty years
Writing, Public Relations, Evaluation
Technical evaluation and writing  for the federal SR&ED tax credit program
Technical Writing & Translation work
Technical adviser for public relation campaign
Design & Prototyping
Electro-mechanical consumer product development
Mechanical design of a Prototype Electrical Linear Motor
Mechanical design of micro-electronic components.
Portable dental equipment
Truck air-actuated disk brakes

CNC solar photometer telescope (aureolemeter)
Hi-vacuumUV photometer for a nuclear fusion reactor
Farm Windmill design and fabrication
Instrumentation design
Technical adviser
Business / Business development
Venture capital seeking, assisting with various company startups.
Laboratory Centrifuge Refurbishing.
Photographer (event, studio, digital & wet lab) & Image Production.
Website development and marketing

Industrial machinery brokering
Importer, retail and corporate sales and manufacturing agent
Plastic film sales rep and machinery operator
General Maintenance
Medical X-Ray equipment serviceman
Automotive maintenance
home renovations
Other Courses
Nautical courses with the

Canadian Power and Sail Squadrons

Boating
 Seamanship
Advanced Piloting
Junior Navigator (Celestial Navigation)
marine VHF certificate
Fundamentals of Weather & Global weather

Select classes in Aeronautical Engineering (in French)

Caractéristiques de l'Avion
Aérodynamique
Matériaux en Aéronautique
Asservissement

RF modulation techniques, electrical engineering dept, U. of Sherbrooke
Photography

studio and portrait

events
B&W lab
Color lab
Other technical skills, knowledges, hobbies and personal interests.
General maintenance and troubleshooting (mechanical and electrical)
fabrication ( machining, welding)
carpentry, renovation and building trades skills, including concrete, stone laying, wiring, plumbing.
plastic injection molding mold design
3D CAD and CAM
Basic analog and digital electronic circuit design and troubleshooting
inorganic chemistry, mercury and other toxic metallic waste reprocessing technologies and environmental regulation
electrochemistry & metal finishing
vehicle safety and braking & related government standards (FMVSS)
applied cryptography, data security
small business accounting
cinematography and video
optics
gold and precious metal chemistry, refining and reclaiming
metal detector operation (prospecting and other)
solar energy (swimming pool heating, home-made solar collectors)
experimental aviation (construction and maintenance, ex-Program Director of E.A.A. chap. 266, Montreal )
Nautical science and boats
Archery, firearms (shooting and reloading), fishing and hunting
dancing (East/West Coast salsa)
Health interests:
Fitness in the context of Evolutionary Biology

High intensity exercice / CrossFit
'Paleo'-style dieting and evolutionary approach to nutrition
weight loss and muscle mass rebuilding
the concept of metabolism as an adaptive system